On 9th March 1991 at 5.00 pm six bellringers and two peal callers gathered at St. Andrews Church Colebrooke to ring a peal of call changes on Colebrooke's enormous and tricky 18cwt peal of bells that consisted of 1507 call changes where different pairs of bells exchange places in a sequence of six.
The occasion was to raise money for the refurbishment of Colebrooke's bells. Much needed refreshments were laid on by volunteers at the village hall afterwards.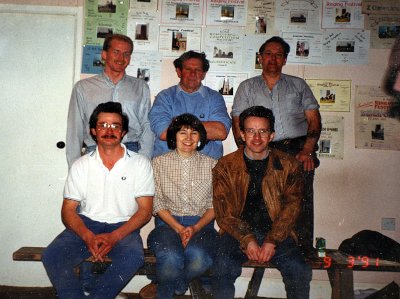 The ringers involved were:
Paul Dart (Treble bell)

Margaret Enderson

Arthur Way

John Enderson (Captain and peal composer)

Chris Parker

John Rodd (Tenor bell)
The peal callers were Jim King & Eric Abrahams (not pictured).
The ringers completed the peal in four hours and sixteen minutes timed by adjudicator Tom Wright from Down St. Mary.